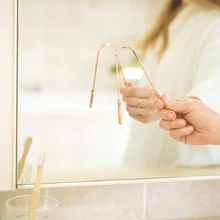 $16.50 AUD
Are you ready to freshen up your morning routine?
Tongue cleaning has been used in Ayurveda for hundreds of years to prevent bad breath and support overall wellbeing.
From an Ayurvedic perspective, the tongue is a reflection of our overall health. Odour-causing substances build up on your tongue overnight while you are sleeping as part of the body's natural cleansing and detoxification processes.
By removing this coating (known as ama) as part of your morning routine, you will not only improve your breath but also make sure the toxins that have come to the surface are not re-ingested. It makes sense, doesn't it?!
Why you'll love it
It's pure copper (the metal recommended by most Ayurvedic practitioners for its antibacterial properties)

It's great for freshening the mouth in the morning

It supports overall health, detoxification and digestion

It's sleek and simple to use

It comes with an organic, fair-trade cotton travel pouch 
TO USE
First thing in the morning before eating, drinking or brushing your teeth,  take the two ends of the Tongue Cleaner in each hand and stick out your tongue. Guide the arch of the tongue cleaner to the back of the tongue and gently scrape forwards and down several times, rinsing off any white mucus from the tongue cleaner in between. Rinse your mouth, brush your teeth and wash the Tongue Cleaner with hot water. Store in a clean, dry place - such as the linen pouch that it comes in.
As with all natural materials and soft metals, light surface markings can occur and in no way detract from the efficacy of the product. To retain the lustre of copper periodically clean your Tongue Cleaner using lemon and salt for maximum shine. 
HOW TO CLEAN YOUR TONGUE CLEANER
You'll need
A thin slice of lemon
Fine sea salt
Method
Take the lemon wedge and dip the cut side in salt.
Gently work the salt-covered lemon over the Tongue Cleaner to remove the tarnish, squeezing the lemon gently as you work and reapplying more salt to the lemon as needed.
Rinse the Tongue Cleaner thoroughly with warm water (use an old toothbrush to get into the grooves and remove any remaining salt) and dry with a towel, polish if you like with a soft dry cloth — and you're done!
ONE BIG LOVE tip: Vinegar in place of lemon also works, just make a paste with the salt and apply with a cloth.