This month, we're thrilled to reignite Pivot , our eight-week pilot program funded by the Australia Council for the Arts, offering artists in-kind space and time to support them to safely investigate, experiment and re-contextualise their work for a COVID normal world.
We recently sat down with Jannette Hoe and Ria Soemardjo who collaborate through The Echoes Project to talk about what they'll be working on during their Pivot residency.
Who is Janette Hoe?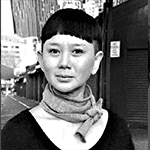 Janette Hoe is a Butoh-based contemporary dance artist and collaborator living in Melbourne. She identifies strongly with her hybrid Malaysian-Chinese-Indonesian heritage which carries through into rich stories in her visceral improvisation work and collaborative projects.
Who is Ria Soemardjo?

Ria Soemardjo is a Melbourne based musician with a passion for collaborating with artists across diverse range of genres and artforms. Her distinct, haunting vocal style reflects her Australian/Indonesian cultural heritage and she draws on her fascination for Indonesian musical traditions in her song writing and collaborative projects.
What is The Echoes Project?
The Echoes Project expands on the long term collaboration of Ria Soemardjo and Janette Hoe, seeking to create contemporary performance ritual in response to specific urban sites. We draw deeply from our personal connections to Javanese and Chinese ceremonial traditions, and weave live music, imagery and sound to create powerful experiences in non-conventional performance spaces.
What will you be exploring during your Pivot residency?
For Pivot, we are particularly drawn to spend time with several of the very beautiful old trees at the Convent, and to research their history and story. The recent destruction of one of the precious Djab Wurrung trees, has spurred us to make work that invites people to connect to these precious trees.
Who inspires you and why?
We are both inspired by the sound artist Janet Cardiff.  We love how she frames memory and temporality, particularly in one of her audio walk projects where the viewer is situated in the same spot on a location as the recorded video (of that very position) playing on their phone.
What are you currently listening to?
Ria: Joyful music—Bassekou Kouyate and Ngoni Ba—music from Mali.
Janette: Everyday Sublime dharma talks podcasts by Josh Summers and Sade's Bring Me Home live concert.
What are you currently watching?
Ria: Nerdy Tutorials on Reaper (recording software)—trying to learn to record and edit properly, as fast as I can!
Janette: German series, Dark, Season 2 on Netflix. I'm loving the time-travel-parallel-universe complex but gripping story telling. A thorough mind workout,  and I'm not even referring to reading the subtitles!
Guilty lockdown pleasure?
Ria: Tea. Toast. Tea. Toast.
Janette: Cake and Netflix.
How do you think your artistic practice might change in a COVID-normal world?
Ria: I just want to keep on creating work that is made locally, in response to the natural world around me.
Janette: Continue making site responsive work in an altered COVID environment safely, and finding new ways to relate to and engage with each other and the immediate world around us. I've ideas that I'd love to explore with a film/video artist at some point.
What does the future hold for you?
Ria: Finding ways to build, grow and nurture a creative community.
Janette: Discovering pathways to maintain a sense of spaciousness in my often-very-full schedule and making room for more self-driven projects in collaboration with other artists.
Pivot has been assisted by the Australian Government through the Australia Council for the Arts, its arts funding and advisory body.